| | |
| --- | --- |
| | About Us |




Glass & Mirror, Inc.
123 Main Street
Anytown, NY 20317
USA
(212) 555-4321
(212) 555-1234 fax

Send Us

E-mail

© Copyright 2011
Glass & Mirror, Inc.
powered by Website2Go.com
All Rights Reserved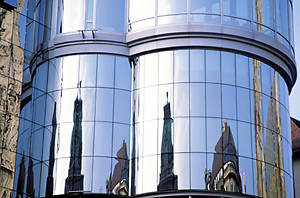 Founded by master glass engineer Marco Smith in 1970, we are an established full line glass and mirror company.

For thirty years, we have provided the entire tri-state region with all of it's automotive, commercial and residential glass needs.

Our showroom at 1000 Main Street in Anytown offers the largest selection of decorator glass and mirrors in the area. It also includes an extensive inventory of foreign and domestic automotive replacement glass as well as a 3-bay auto glass replacement shop. We have separate shops for commercial and residential glazing and door fabrication.

Our showroom staff and technicians are all dedicated, concerned and skilled in providing the finest service available in the glass and mirror industry. Marco Smith, now (semi) retired, himself still consults with clients regularly. With over 175 years of combined experience, our NGA certified technicians install glass using the latest fast cure adhesive technology for the ultimate in customer safety. We currently have 6 installers who are all certified by the National Glass Association as master technicians.

One call to (212) 555-4321 will solve all of your glass and mirror needs!